Also known as
Event-Subscriber, Listener
Observer
Intent
Define a one-to-many dependency between objects so that when one object changes state, all its dependents are notified and updated automatically.
This page is a work in progress
We roll out the updates weekly. Leave your email to track the progress. You can expect one email per month and no spam, pinky promise.
Structure of design pattern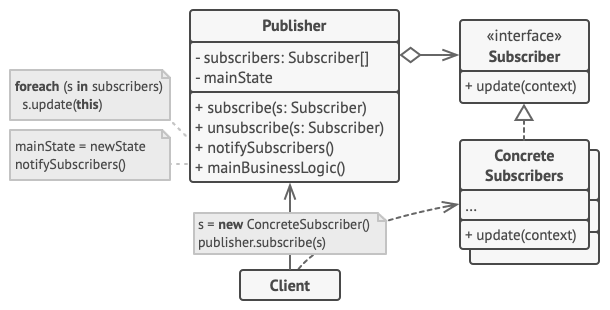 Pseudocode
// Base publisher class. It should include the subscription management code and
// notification methods.
class EventManager is
    field listeners: hash map of eventTypes and EventListeners

    method subscribe(eventType, listener) is
        listeners.add(eventType, listener)

    method unsubscribe(eventType, listener) is
        listeners.remove(eventType, listener)

    method notify(eventType, a) is
        foreach listeners.of(eventType) as listener
            listener.update(a)

// Concrete publisher, which contains real business logic interesting for some
// subscribers. We could extend this class from a base publisher, but that is
// not always possible in real life, since a publisher it might already have a
// parent class. In this case, you can patch the subscription logic in with
// composition, just like we did it here.
class Editor is
    field events: EventManager
    field file: File

    constructor Editor() is
        events = new EventManager()

    // Business logic methods can notify subscribers about the changes.
    method openFile(filename) is
        this.file = new File(filename)
        events.notify('open', filename)

    method saveFile() is
        file.write()
        events.notify('save', file.name)
    // ...


// Common subscribers interface. By the way, modern programming languages allow
// to simplify this code and use functions as subscribers.
interface EventListener is
    method update(a)

// List of concrete listeners. They react to publisher updates by doing some
// useful work.
class LogOpenListener is
    field log: File

    constructor LogOpenListener(filename) is
        this.log = new File(filename)

    method update(filename) is
        log.write("Opened: " + filename)

class EmailNotificationListener is
    field email: string

    constructor EmailNotificationListener(email) is
        this.email = email

    method update(filename) is
        system.email(email, "Someone has changed the file: " + filename)


// Application can configure publishers and subscribers even in run time.
class Application is
    method config() is
        editor = new TextEditor()
        editor.events.subscribe("open",
            new LogOpenListener("/path/to/log/file.txt"))
        editor.events.subscribe("save",
            new EmailNotificationListener("admin@example.com"))

Implementations in Different Programming Languages