Strategy
Intent
Define a family of algorithms, encapsulate each one, and make them interchangeable. Strategy lets the algorithm vary independently from the clients that use it.
This page is a work in progress
We roll out the updates weekly. Leave your email to track the progress. You can expect one email per month and no spam, pinky promise.
Structure of design pattern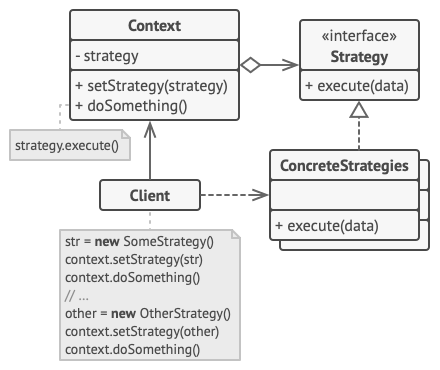 Pseudocode
// Common interface for all strategies.
interface Strategy is
    method algorithm(a, b)

// Each concrete strategy provides unique implementation.
class ConcreteStrategyAdd implements Strategy is
    method algorithm(a, b) is
        return a + b

class ConcreteStrategySubtract implements Strategy is
    method algorithm(a, b) is
        return a - b

class ConcreteStrategyMultiply implements Strategy is
    method algorithm(a, b) is
        return a * b

// Context (as a client) always works with strategies through a common
// interface. It does not know or care which strategy is currently active.
class Context is
    private strategy: Strategy

    method setStrategy(Strategy strategy) is
        this.strategy = strategy

    method executeStrategy(int a, int b) is
        return strategy.execute(a, b)


// The concrete strategy is picked on a higher level (for example, by
// application config) and passed to the client object. At any time, the
// strategy object can be replaced by a different strategy.
class ExampleApplication is
    method main() is
        Create context object.

        Read first number
        Read last number
        Read the desired action from user input

        if (action == addition) then
            context.setStrategy(new ConcreteStrategyAdd());

        if (action == subtraction) then
            context.setStrategy(new ConcreteStrategySubtract());

        if (action == multiplication) then
            context.setStrategy(new ConcreteStrategyMultiply());

        result = context.executeStrategy(First number, Second number);

Implementations in Different Programming Languages